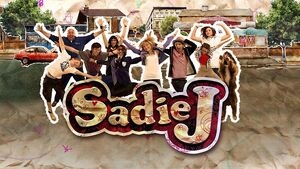 Sadie J is a 2011 CBBC television programme about a 12 year old girl (who later turns 13) who is described as the only girl in an all boy world.
Sadie Jenkins is a thirteen-year-old schoolgirl who often finds herself stuck in the middle of dilemmas. She uses Cheryl Cole as an inspiration and tries to solve problems with the help of her two best friends, Kit Carter and Dede Baxter.
Actually, she was still 12 for the first six episodes, a had her 13bday in the 7th ep!
The three friends often hang out together in The Y Diner, which is run by Miss V and encounter people such as the Canadian Chloe who is nicknamed 'Trog Face'. So far, Sadie has won tickets to see JLS, hired a crazy housekeeper, pretended to her friends that she knows celebrities, smashed a robot, had a sleepover party, won an award for a dress she didn't make and been to a geek party instead of attending Kit's drama award ceremony and a space cargo party with Dede.
See: Episode Guide
Sadie J is a 2011 Television series which had its first episode, Crushamondo, broadcast for the first time on the CBBC channel on the 14th of January 2011. As of the twenty fifth of March 2011 where has been a total of 12 episodes of the series broadcast.
As of May 29th, all 13 have been shown, at least twice each. May they continue to be shown for years to come!
Series 2 is apparently go - expected to be screened Jan 2012 (?), with rumours of new characters!
Georgia Lock has already broken out into TV presenting already with "Friday Download" - with luck she'll be a CBBC celeb for years to come - watch out Barney Harwood!
If this programme becomes as known, popular, and long lived as Tracey Beaker..... I'm happy!
The series is thought to have particular types of themes with some episodes. For example, the second, third, fourth, fifth and seventh episodes all end with the term 'licious'. These episodes are: 'Robootylicious', 'Friendalicious', 'Slumberlicious', 'Tidylicious' and 'Partylicious' .
Background
Edit
The series was created by Robert Evans and produced by Paul Mackenzie. It is based on Evans' real life niece Sadie and her younger brother Danny (who also share their names with the onscreen brother and sister).
Community content is available under
CC-BY-SA
unless otherwise noted.