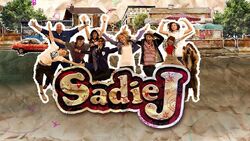 This page is a full list of episodes of Sadie J, a 2011 CBBC television programme about a 12 year old girl (who later turns 13) who is described as the only girl in an all boy world.
The series, which has had 13 episodes broadcast to date, stars Georgia Lock, Ronan Carter and Priyanka Patel and was first aired on 14 January 2011.
Series 1
Edit
The first series of Sadie J was announced by CBBC in late 2009, and filming started on 30 August 2010, and was completed on 11 September 2010.
Series 2
Edit
A second series is in production. It began filming on June 30, 2011 and will end filming in August 2011. It will air on CBBC in January 2012.
Cocolocolistic
Blackmailamundo
Bieberbopalicious
Megatronic
Bridesmaidamundo
Moviemashupamundo
Jazperilliant
Bardalicious
Pixiepopalistic (Part 1 of 2)
Pixiepopalistic (Part 2 of 2)
Series 3 
Edit
A third series of Sadie J, was announced by Georgia Lock, in early 2012, to premiere in 2013. Filming commenced on 1st August 2012, and finished on 6th September 2012. Series 3 officially premiered on CBBC, on 23 January 2013, and was promoted with brand-new episodes of Friday Download and Dani's Castle. 
1. 'Beaudelicious'
2. Mamalicious'
3. 'Braziliant'
4. 'Ricolantino'
5. 'Littlemixamundo'
6. 'Dederama'
7. 'Dinnerlicious'
8. 'Seasonalicious'
9. 'Bobsleighbonkerlicious'
10. 'Byebyebabylicious'
11-13. A Sadie J Christmas'
Series 4
Edit
A fourth series of Sadie J was announced by Lock, in 2013, to air some point between 2014 and 2017. CBBC announced, the following year, the fourth series will be a spin-off to Sadie J, and would take off, after the events of Byebyebabylicious, with events in Sadie's life coming to an end. It was announced on 23 January 2014, that, new cast members will replace the old cast and the spin-off will take place in Sadie and co's, new house. Casting calls were announced on 5th January 2015, and were brought to a close in September 2015. Filming for the spin-off series began on 9th September 2015, but only four-episodes were produced. Dani Harmer confirmed on he twitter page, in October 2015, she was casted as Sadie's cousin. From Late October-December 2015, the rumors of the fourth series of Sadie J, was on haitus, until January 2016, when it was confirmed by Georgia Lock, that series 4 was dropped by the BBC.
Un-aried Series 4 Episodes
Edit
'Sadie's Back'
'Dani VS Sadie'
'Computer Virus'
'TBA'
'Returnalicious'
Community content is available under
CC-BY-SA
unless otherwise noted.