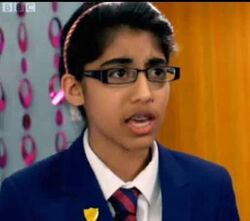 Deliah 'DeDe' Baxter
 is a character in the show who is best friends with Sadie Jenkins.
She is one of the three primary main characters is portrayed as a girl who is extremely clever and determined to achieve 100% in everything. She does not have much in common with Sadie, but she is often taken advantage of and has her talents exploited.
This happens to Dede more often than it does to Kit. For example, she has 'the voice of Mariah Carey', in one episode, when Sadie is determined to prove herself as a fantastic singer, she uses Dede's voice and mimes so that she is no longer a social outcast. In a bid to prove herself to Kit as a fashion icon to Kit, Sadie attempts to make a dress that everyone thinks is horrible. Dede agrees to help her and uses her history knowledge to create the 'perfect costume' for 'The Y Fundraiser'. Everyone agrees it is a wonderful dress and Sadie takes credit for it.
Community content is available under
CC-BY-SA
unless otherwise noted.